Where the Fingers Fall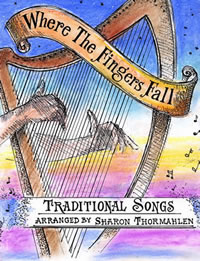 This is a book of traditional songs that Sharon arranged for the harp. Again, it's suitable for beginners and intermediate players. Songs include Blind Mary, Childgrove (1 lever change), Far From Home, French An Dro, Grandfather's Clock, Planxty George Brabazon, Swedish Music Box, Kitty McGee, Morgan Magan, O'Carolan's Draught, The Parting Glass, The Ashgrove, Waltzing Matilda, and Simple Gifts.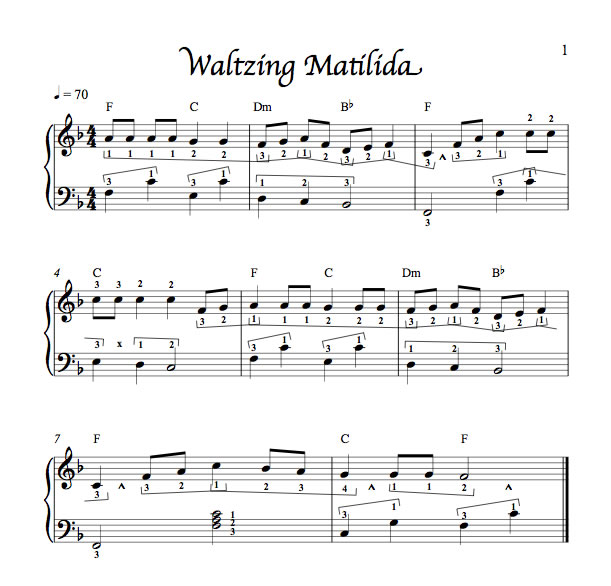 Waltzing Matilda Audio MP3
The book is $14. Now available with an audio CD accompaniment.
Here's what people wrote me about this book:
My top three favorites from "Where the Fingers Fall" are Childgrove, French An Dro, and The Ashgrove (which, as far as I'm concerned, is the best arrangement of this traditional tune that I have come across so far).
Jan Dromlewicz
When I was young, I had some sort of toy, I can't even remember what it was, that played the tune of Grandfather Clock. I had forgotten all about it, but as soon as I started playing it from your book, the tune came back to me as if I had just heard it yesterday. Thank you for that bit of nostalgia.
Kari Gardner
If you'd like to be added to this list, just email me with your comments at: harps@thorharp.com
Go back to the Books,
or go to A Rose in Winter
The Singing Tree
Gossamer Gate
Sweepin' the Clouds Away
Dance Thru the Music
'Tis the Season
Shalom
Waltz Upon a Time
Prelude for Peace