A Luthier's Alphabet of Imaginary Instruments
Woodcuts and Poems by Fred Carlson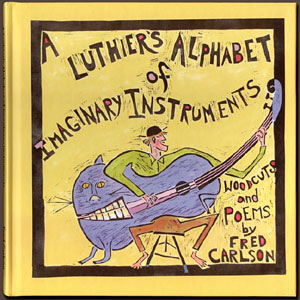 It's Inventive Harp Guitar Builder meets Dr. Seuss!
"From the off-beat imagination of (harp guitar builder) and artist Fred Carlson comes a fanciful collection of alphabet woodcuts and poems, playfully describing rare instruments not seen in your average luthier's shop! From Autoharp to Zukulele, and every crazy letter in between, this unique lutherie-inspired alphabet is sure to delight luthiers, musicians, and children of all ages! Whimsical and delightfully clever poems describe each full-page illustration. A must-have for everyone who loves musical instruments, wacky humor, and fun! They're all here in this sturdy hardbound book. It's a unique alphabet that every luthier (and music fan!) will want to own."
64 pages, 8-3/4" x 8-3/4" hardbound $15 shipping $4
Here are some examples:
The "Auto"harp
The "Jaw" Harp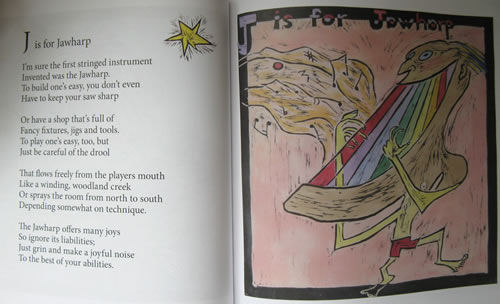 The "Nickel"harpa
$15, shipping $4
A Great Gift Idea!

Some praise for A Luthier's Aphabet of Imaginary Instruments:
"Having already built some of the most fantastical and beautiful stringed instruments on the planet , now Fred Carlson brings us the complete A-Z of imaginary instruments in a book of awesome woodcuts and clever rhymes that will be sure to delight music lovers of all ages. A Luthier's Alphabet of Imaginary Instruments will tickle your bones and make your whole body resonate with a joyful sound!"
— Alex de Grassi

"My Oh My!! What a joyous work of splendor! Dear Fred, I'm speechless in reading the wonderful book/gift you just sent for Baby Grace. A Luthier's Alphabet of Imaginary Instruments is just the best thing I've received yet for her. I am simply elated to receive it and that it's directly from you, and to know you and the depth from which this classic emerges. With all my heart, thank you!!!"
— Andrew (a new parent)

"Thank you my friend, your book just arrived
My deepest respect for the poems you contrived
Hard work and talent define who you are
Maybe one day I'll play a Sympitar!
Great book Fred."
— Bob Benedetto, Benedetto Guitars