Thormahlen Harp Stand
| | |
| --- | --- |
| Ever want to stand up while playing the harp? Well, now you can. Here is our solution to being able to do that. We have put this on a Dusty 36 and Nicolas Carter's Paraguayan harp and it worked quite well, but we don't know if it will work on every harp. Cost: $200 | |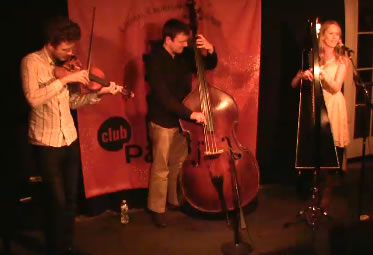 Maeve Gilchrist with her harp on a stand.

Sharon Thormahlen with her Ceili on a harp stand during the Washington/Idaho/Montana tour last June.

The harp stand can be a great addition to a small harp bringing it up to the right height to play in a regular chair.
We attach the wooden "donut" to the bottom of your harp. You put the stand in the donut hole and there you have it.
OR
here are the instructions for attaching the donut to your harp.