Camac Levers

CAMAC LEVERS:
Camac Levers are the newest lever to become available. They were developed by the Camac Harp Company of France.We think, they are the best levers on the market, and we highly recommend them.
Camac levers are a silver color made totally from metal. The C and F lever handles have colored bands of red and blue to make lever flipping easy. The tone difference of the levered string is virtualy undetectable to one that is not levered. They have a very smooth and quiet action. There is no noise from the lever rubbing on the bass wires when engaging. Camac levers come standard on all of our harp models.
Here is a picture of the overall look of the new Camac levers. The handles are a little longer than the old style of Camac levers making it a more solid connection to your fingers. They are also easier to grab and don't slip off of your fingers like the old style tend to do.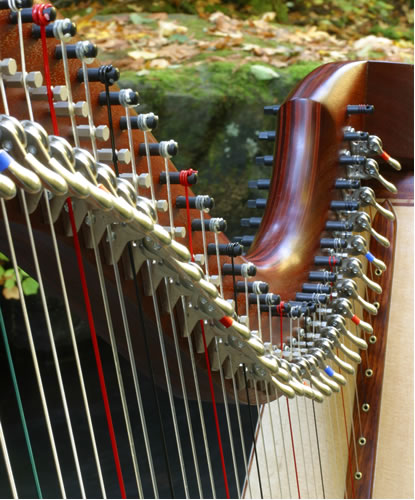 A little closer view of the new Camac levers. The levers move easier than the older style and secure the string easier.
Even closer view. The handles in this picture look like they have an indentation but it is just the lighting and shadow that makes it look that way. The handles are smooth with a slight concave curve.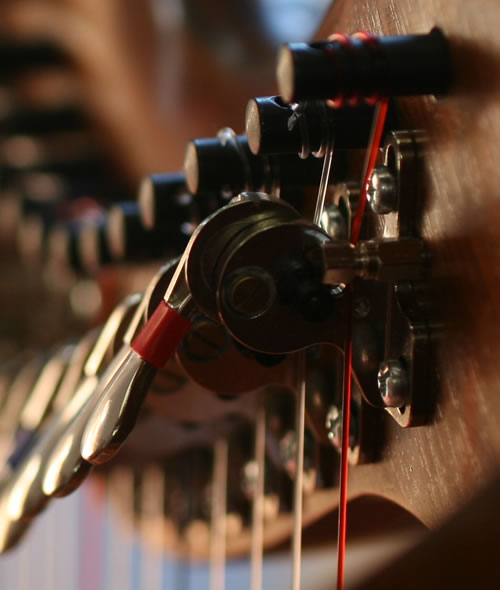 Here is a very close up view of the handle and lever mechanism. You can see the smooth concave lever handle in this photo.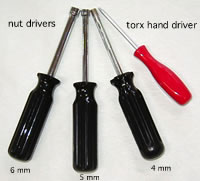 The levers can easily be adjusted using this lever regulating tool kit. It comes complete with instructions. The tool set is $60.
Instructions for regulating Camac levers
"Hi Sharon...a quick thank you to let you know I received the Camac lever regulating tools, and they worked perfectly! The instructions were very clear, and it was a very simple process! Thank you for sending them so quickly! I'm thrilled!"
Lynn Mailett


Go on to the strings page or back to the page on levers