The Thormahlen Case
The Blue Heron case pictured to the right is included in the price of all of our harps. It is a padded Cordura case made by The Blue Heron Case Company located in Northern California. They make cases for all kinds of instruments using the highest quality Cordura and padding. They have worked with us to design a well balanced and easy to use harp case.
Although no Cordura harp case is totally water proof, Sharon had her harp in an incredible downpour that she could not immediately get out of. The case was drenched and the harp was wet. After wiping down the harp, and drying the case, there was not one hint of damage to either the harp or the case to show that it had been rained on. We were greatly impressed with the performance of the harp case!
The case has large pockets for accessories such as your tuning key, tuner, extra set of strings, music, music stand (a metal fold up music stand will fit in the large pocket). There are straps and handles just where you want and need them for easy carrying and moving to and from your car.
To put your harp in the case, we recommend that you lay your case on the floor and open it up. Make sure all the levers are in the unengaged position (levers down). Lay your harp in the case with the lever side up (it's the only way it will fit) and then zip it up.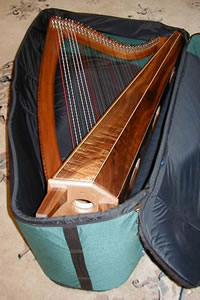 When carrying your harp case we recommend that you put the case strap over your head carrying it on the left shoulder. Reach down with your right hand and grab the handle between the pockets and be on your way.
Go back to the models, Serenades or the instock page.