The Mahogany Harp
When you think of mahogany, you usually think of dark reddish brown furniture wood. That mahogany furniture has been stained dark. The mahogany that we use stays natural with no stain (unless requested). It is a very rich light brown, usually with very straight grain lines.
Mahogany offers a big, warm voice with a long sustain. It tends toward mellow but is generally loud.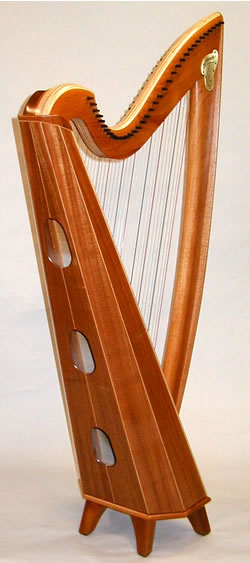 The Mahogany Swan
We usually use spruce soundboards on mahogany but we have also used cedar.
A close up of our new knee block on a mahogany harp.
The mahogany Cygnet
A very nice choice!
The Mahogany Deluxe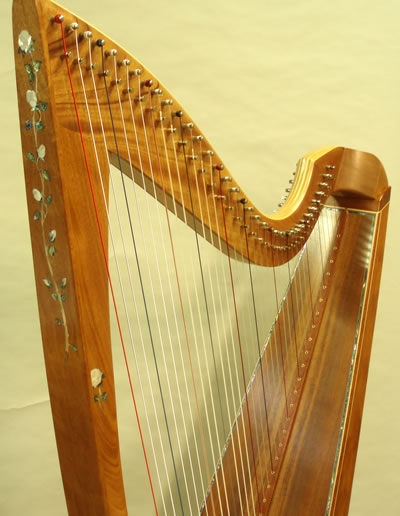 This beautiful harp is made out of some very unusual mahogany. Most mahogany has a very straight grain but this one has some curl to it. Notice how beautiful the wood in the neck is.
If you're interested in the premium mahogany, let us know. There is an extra charge for our premium wood. We can show you what we have by way of a private webpage. There is a $100 minimum for looking that will be applied to the price of your wood choice.
To see more of this harp go to Mahogany Deluxe
Other woods to check out: maple, walnut, cherry, bubinga, koa.
Or go back to the models, woods, or the instock page.