The Woods we use
We are very particular about the wood that goes into each Thormahlen Harp. For the soundboards of our Swan, Cygnet, and Clare harps, we use only hand-split, clear, vertical-grained spruce which provides the greatest strength and stability and the clearest tone. For the body of our Swan, Cygnet, and Clare harps, we use the most beautiful domestic and exotic figured hardwoods we can find. The various woods we use produce a range of tonal characteristics as discussed below. We also use these woods for binding on our Serenade and Ceili harps.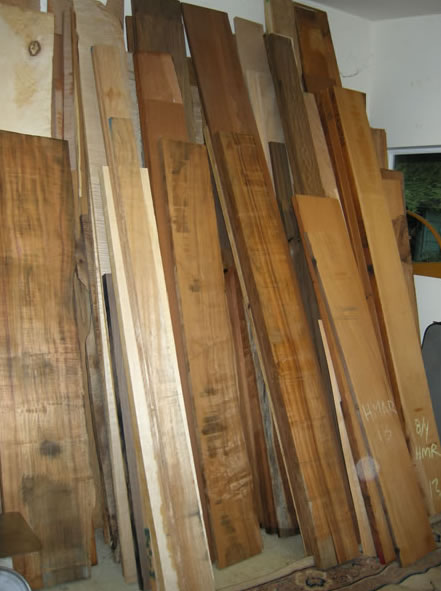 DOMESTIC WOOD
Cherry: a warm and sweet tone that is very pleasing and mellow. It darkens with age to a beautiful amber color.
Mahogany: a big, warm voice with a long sustain
Maple: a bright tone that is well-balanced with good projection and a strong fundamental
Walnut: a medium bright, clear, open sound, rich with overtones
EXOTIC WOOD
Bubinga: a bright, clear, ringing tone with a lot of sustain, emphasizes the fundamental
Rosewood: a warmer tone than bubinga, not as loud, has a lot of sustain, stronger on overtones.
Koa: a very rich sound with clear bell-like tones especially in the high end, our favorite.
With all of our exotic harps, we use mahogany for the neck and pillar. This greatly reduces the weight of some of the heavier wood but also allows us to use the wood responsibly for the places that matter. We can use the same wood for the neck and pillar for an extra charge.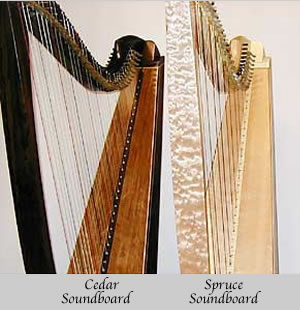 SOUNDBOARDS
The soundboards for our Swan, Cygnet, and Clare harps are made of spruce. Spruce has long been favored for the soundboards of stringed instruments. Spruce has a characteristic sound that is clear and not too resonant. In the past we have used cedar on some of our harps, but the current cedar that we have seems to be too resonant and ringy, so we are recommending spruce and using cedar veneer if you want the dark look on the soundboard.


With so many wood choices available to us, we are able to tailor the sound of the harp to your needs. If you would like to discuss the tonal qualities that you are after in a harp, call us. We'd love to help you figure out which would be the best harp wood for you.
PICK YOUR WOOD
If you would like, you can pick a wood set for your harp. There is a $100 charge
to look at the selection of wood sets. Depending on the wood set you pick, there may be a further upcharge of anywhere from $200-1200 depending on how "deluxe" of a set you pick. The original $100 will be applied to the cost of any set you choose. The sets will be labeled with their price so you can pick accordingly. We have some spectacular wood sets from time to time, so check with us to see what we have available in the wood that you think you might like. We will send you an email with photos of the possibilities along with their costs. They would look something like this example in koa on the right.
Please continue browsing by checking out Our Shop.