My Musical Journey
While writing an article for the Folk Harp Journal (Spring 2017) titled "Our Musical Journey," I decided to write mine down. Here it is.

In thinking about my musical journey, I decided to journal about where I've been and how far I've come. It starts for me with both of my parents playing the mandolin, and my dad also playing the harmonica. My dad loved telling us his World War II story of having traded a pack of cigarettes for a tenor banjo (which is much like a mandolin) This banjo now hangs on the wall in my home next to my mother's mandolin.
I remember, one day our family went to visit my mother's cousin who had just gotten back to the states from Israel with her new guitar playing husband. I absolutely loved watching him play and I had this feeling inside that "I wanted to do that!" I was 12 years old.
My aunt had just purchased a guitar for my cousin, Judy, and she said she could get one for me too. I got a Suzuki brand guitar and I took lessons from Mr. Westerdahl who taught me how to read music and gave me exercises to do on the guitar. I can't really say I loved it. I just wanted to play the folk music of Joan Baez and Judy Collins. I remember going to lessons with the guitar slung across my shoulder and my dad carrying the case behind me. I really wanted to look cool!
My cousin, Helen, and I would sit around for hours singing folk songs while I played my guitar. My parents took us camping and we would sing around the campfire. My Dad took me with him to the old folks homes where I would play guitar and he would accompany me on mandolin or harmonica. I loved that! At his end of life, he ended up living at that old folks home.
I remember the first time I figured out the chords to a song. It was Judy Collin's "Someday Soon" from the 45 rpm record I had. I was so proud of myself. Of course, back then we didn't have the internet to quickly pull up lyrics and chords when we needed them! We had to figure it out ourselves by dropping the record player needle on the record as we wrote down the words as fast as we could. That shorthand class in high school really helped!.
When I was about 14, another of my cousins, Hal, who was very scientifically minded, asked me some questions about what I was playing on the guitar. We sat down, mapped out the guitar fret board with the notes and figured out that there were 3 notes that made up each chord. This was my first introduction to music theory, and I have loved it ever since. We also wrote a tune about a kid getting in trouble with his parents. That was the first song I ever wrote.
I went on to college and took some music theory classes at San Jose State. I even took some flute lessons and played recorder in a collegium. I remember going into the music building and seeing the harps in the practice rooms never, ever thinking that would be an instrument I would ever play. But who knew what was in store!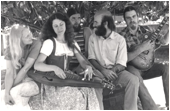 After college I learned to play the Appalachian lap dulcimer transferring all my guitar knowledge to the dulcimer. I had quite a repertoire. I went to dulcimer gatherings on the WestCcoast with some of the best dulcimer players around! I even played the dulcimer in a soft rock group called Carnelian. Carolyn, who played keyboards, introduced me to the concept of the "chord family" where the order of chords is MmmMMmdim. If you don't understand that, check out the Spring FHJ or google chord family.
Then I went back to playing the guitar transferring what I learned on the dulcimer back to the guitar. A friend of mine was having an open mic party at his house, and I signed up to sing and play Jefferson Airplane's "Don't you Want Somebody to Love." I was actually scared to death to play solo, and many people told me, "Then don't do it." I decided not to let being scared stop me. So I was scared and sang it anyway, and it went pretty well.

I played in a duo called Sweet Harmony with my friend, Paulina. We had a blast playing at local breakfast or dinner eateries. We even recorded a cassette tape of our original tunes called "Reflections." I still have about 8 of them left on my bookshelf. Then I played in another duo with Ian doing the same sort of gigs. My dad even joined us a few times.
Then I met Dave and we played as the duo Oak Shade, named after the road I lived on. He was (is) a mandolin player and we both sang at local restaurants and festivals around town.
At some point we decided that we wanted to find a bass player to join us and that proved to be a difficult task. Finally we found someone, but he was moving to Eastern Oregon in a week. He asked if he could store
his bass at my house for a couple of weeks and I said, "Sure!" It turned out to be 3 months in which time I started to learn to play the bass. I got my first lesson from Tammy Fassaert, who was playing with the Laurie Lewis band at the Weiser, Idaho, Fiddle Camp of 1986. We then got another guitar player to play with us and I played the bass. I attended the Puget Sound Guitar Camp where I studied bass with Cary Black, a wonderful bass player. Our guitar player moved to Indiana, and Lentil Bean, a musical icon of Corvallis, stepped in. We also added Dave Burham, a fiddle player who had some training at the Berkeley School of Music in Boston, and we became the Swing Beans for a run of about 10 years. We made 2 wonderful recordings that are still available - Groovin' in the Garden and Dessert First.
I tried taking up the harp during the Swing Bean era, but I just couldn't gel the different styles of music at the time. We were playing swing tunes and the harp pointed more towards Irish music, so I didn't pursue it.
Then we had a baby girl, and our Swing Bean guitar player went back to school, so we disbanded. It was at the Olympia Harp Conference in 1996, while watching the harp concerts, that I again felt that feeling of "I want to do that!" Our daughter, Rosiee, started full time school that fall, and it gave me the space to take harp lessons with Laura Zaerr. We are so lucky to have Laura in our community! I took many, many years of lessons with her along with lessons at conferences from Kim Robertson, Sunita Stanislow, Pamela Bruner, Frank Voltz, Cynthia Artish, and anyone else I could get my hands on. I have since been able to play all kinds of music on the harp from Latin to Irish to Swing.
Now I have my own studio with students coming to me for lessons. I have written 18 books of harp music, some original, some traditional, and some duet books with my cousin, Anna Thormahlen Jenkins. Dave and I continue to perform at local venues, touring to states close by and performing at the national harp conferences (The Ohio Gathering, Somerset Harp Festival and Southeastern Harp Weekend). I continue honing my technical skills by learning from the best teachers around. Nicolas Carter and Alfredo Rolando Ortiz have taught me so much about Latin rhythms. I attend many of the webinars on line (Deborah Henson-Conant, Maeve Gilchrist, Ann Sullivan, Diana Rowan), not only learning what is being taught, but zeroing in on improving my teaching skills. I don't know what's next, but I am ready for it!