thorharpdotcombo: Dave & Sharon Thormahlen
Dave and Sharon Thormahlen play mostly original compositions by Sharon on instruments built by Dave. What a great team! The instruments are harp, guitar, mandolin along with the newly added banjo. Their original tunes are like musical watercolors. They invoke images of the beauty in our natural environment. They also play some fun Irish tunes, lively South American tunes, some familiar tunes, and they have even been known to sing a few. (see tune list below.) Sharon says, "We may not rock but we sure do ROLL!"
Dave and Sharon have perfomed in Corvallis at Fireworks Restaurant, Belle Valle Wine Cellars, Imagine Coffee House, The Best Cellar Coffee House, Regent Court Care Center and Retirement Home, Stoneybrook Retirement Home, StoneyBrook Assisted Living Home, Timberhill Retirement Home, art openings and other events.
Here's a video of Dave and I performing Mason William
Flamenco Lingo. We were performing the Saturday night concert at an informal music camp at Simcoe Mountain in Washington State.
Here's a segment of the House Concert in Spokane, Washington we did in June.
"Dave and Sharon Thormahlen are Corvallis treasures making a gorgeous product that is a genuine throwback to a forgotten age. Their harps are a vision to behold, and they sound
great. You normally don't intend on hearing harps until your translucent spirit rises from your dead body and perches on a cloud, but that doesn't mean you shouldn't hear some harp music a little earlier than planned!" Corvallis Advocate
"What a delightful evening listening to the beautiful music that you two make together!" Cindy Crosby
My mother and I very much enjoyed your music at Imagine Cafe last night and the conversation with Dave regarding building instruments. It's been the best concert I've attended since arriving (in Corvallis). Thank you!
Lisa Hochmann
Your original music was my favorite of whole evening. They evoked images, memories, and emotions. Thank you!!! You and Dave were certainly worth it! Cynthia
It was a great concert. I thought you and Dave were particularly good last night. Jan Dromlewicz
Thank you so much for yesterdays performance!!! You guys are terrific and the residents and their Families love you guys! You are a huge hit...Thank you and see you next month. Shanna (Willamette Springs Memory Care)
We have heard many comments about your playing at our open house, and I just wanted to thank you again for sharing your gift of music. I also appreciate how you play a diverse selection. Dave Cudo, Raymond James Investmetns
"I thoroughly enjoyed your performance, such a great diversity of music you play." Christina Calkins, Breitenbush Music Coordinator
I really enjoyed your Christmas music. You and your husband are wonderful musicians! Katchen Moa, Videx, Inc
Are you coming to Somerset this year? I loved your concert last year and your CD is one of my favorites. Marjorie Markowitz
Your concert was wonderful! All of us enjoyed it immensely. Celtic harp stirs something in my soul like nothing else. I could listen to you play all night.
Many thanks, Zouri
I found there's a lot of gentleness in the songs you like and the way you play them. Majorie Smith
It was wonderful seeing your show last night. We always enjoy your music! Keep up the awesomeness!! Suz Doyle
Live From the Harp Shop
Check out their new CD: LiveFromtheHarpShop
New interview appearing in a local paper
"Thank you for the concert Sat. at Imagine Coffee. Your music is uplifting and delightful. An aspect that makes it very special is your personal energy and relationship to the sounds of the music. David, the art of your musical instrument building is a treasure and Sharon, your compositions are lovely. Warm Regards and blessings" Shirley
"Thank you so much for coming to Missoula and presenting your workshops and concert! I enjoyed the day, and really enjoyed your music at the Starving Artist -- such easy listening music and very well done!"
Alice Williams (Board member of the International Society of Folk Harpers and Craftsmen)
"It was great having you and Dave here (in Coeur d'Alene) and I've heard nothing but positive comments on the workshops!! Thank you for coming and let's talk again in 2017!!" Kim Davidson

Dave & Sharon have a special program for retirement homes that include fun sing-a-longs and "little known" facts about the familiar tunes in their set.

Original tunes
Sunstream
Confluence
Alpenglow
Lazy Dogs
In the Wind
The Night Sky
Gossamer Gate
Misty Meadow
Sweeten Creek
Redwood Waltz
Emerald Forest
Sweet Serenade
The Singing Tree
A Rose in Winter
Birds of Blueridge
Van Gogh Canyon
Mayne Island Waltz
Wolf at the Big Odell
Last Leaves of Autumn
Moon Over the Mountain
Sweepin' the Clouds Away
Nanalou O Kohola (Waves of the Whale)

Familiar tunes
I Will
Yesterday
In My Life
Moon River
City of Stars
O'Susannah
Shenendoah
And I Love Her
Waltzing Matilda
Red River Valley
Love Me Tender
Wonderful World
Over the Rainbow
Till There Was You
Swingin' On a Star
Bicycle Built for Two
Fly Me to the Moon
America the Beautiful
This Land Is Your Land
When You Wish Upon a Star
Here, There and Everywhere
Take Me Out to the Ballgame
Can't Help Falling in Love With You




Irish/Celtic type tunes
Hewlett
Far Away
Kesh Jig
Foggy Dew
Blind Mary
Fanny Power
Carrickfergus
The Butterfly
Carolan's Dream
Morgan Megan
Carolan's Draught
Eleanor Plunkett
Winter Waterfall
Sailor's Hornpipe
Carolan's Concerto
Huckleberry Heaven
Wolf at the Big Odell
Gander in the Pratie Hole
Star of the County Down
Planxty George Brabazon
Merrily Kiss the Quaker
South American/Latin or tunes from other exotic places
Tico Tico
Harpeggio
La Paloma
Old San Juan
Besame Mucho
Habanera Gris
Autumn Moon
Tourner à Trois
Misty Meadow
Cumbia Deliciosa
Los Bilbilicos
Flemenco Lingo
Caribbean Holiday
Merengue Rojo
Quiero Ser Tu Sombra
Mi Ha Ish (Who is this man who seeks peace)
Im Eshcahech (I Won't Forget You O Jerusalem)
Christmas seasonal
Silver Bells
Silent Night
Stiil Still Still
The First Noel
Deck the Halls
Jingle Bell Rock
White Christmas
Joy to the World
O Christmas Tree
Christmas in Killarny
Frosty the Snowman
In the Bleak MidWinter
Here Comes Santa Claus
Ding Dong Merrily On High
God Rest Ye Merry Gentlemen
Santa Claus is Coming to Town
It Came Upon a Midnight Clear
Angels We Have Heard On High
We Wish You a Merry Christmas
Rudolph the Red-nosed Reindeer
Let it Snow! Let it Snow, Let it Snow!
Have Yourself a Merry Little Christmas
The Christmas Song (Chestnuts Roasting on an Open Fire)
Marylhurst Handmade Instrument Show April 28, 2012
(Photos by James White)
WorkShops
We also do a number of workshops for harpists and other musicians as well.
1. THE METRONOME/Your New Best Friend (Sharon)
We start by talking briefly about the history and kinds of metronomes. We then move on to some clapping and moving our bodies to the metronome. We play progressively more involved etudes while really paying attention to the beat of the metronome that we will take from 60 bpm to 200 bpm. You will be amazed at the speed you can play when we take it up slowly. There is also a page of duet etudes.
2. 3RDS, 5THS AND 6THS AS HARMONY (Sharon)
Harmony is one way to dress up your music. Using 3rds, 5ths & 6ths, we
will learn when you can use each interval, and why. We will also use a piece of music to see how this works. These harmonies can be added to your tune as a second time around to make your music more interesting.
3. COMFORT CHORD (Sharon)
Learn how to play and recognize chord inversions, and how to easily read them off the music score. Using major chords, you will experience shaping your hand and placing your fingers on the strings in the root position, first inversion and second inversion for each chord. By playing some inversion etudes, you will memorize these inversions by seeing them played with your fingers. After this workshop, the harp will make more sense and your playing will reach another level.
4. MUSIC THEORYIMPROVISING (Sharon)
This is kind of a nerdy approach to music theory, starting with the circle of 5ths and how it relates to 1-4-5 chords, then going into scales, how chords are made (major, minor, 7ths, suspended 2nds and 4ths, etc.) and how to use this information ultimately for improvising. It would also relate to key signatures, lever configurations, and how to color your chords with tones not in the major triad. There are many "aha" moments in this workshop. Even though it's theory, it would be a "hands on your harp" workshop for any level.
5. STRING TYING AND HARP TUNING (Sharon)
Using rope and sticks (which I have for each participant) I show how to tie a knot for your harp string. Then we do it with real string. I show how to secure the string to the tuning pin. I go over some tuning tips that will increase the speed at which you tune your harp. We talk about any problems people have with string tying or tuning.
6. ELEMENTS OF ARRANGING (Sharon)
I use the tune Star of the County Down to show a variety of arranging ideas (left and right hand) including different chord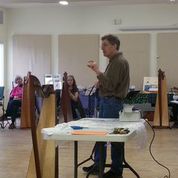 configurations, chord tones played in a different order, parallel 6ths or 10ths in the left hand which follow the melody in the right hand, echoing of the melody in the bass line, arpeggios (1-5-8-9-10), chord substitutions, varying your pick up notes, varying your melody notes, pedaling a lower note with the melody, treble echo notes up high. We can talk about introductions and endings.
7. PICK A CHORD, ANY CHORD (Sharon)
When learning a song from a lead sheet with only the melody line, it can be challenging to figure out what chords to play with your left hand. In this workshop, Sharon will provide practical tips to help you figure out what chords go with the melody. You will learn what the "chord family" is and how to use it.
8. BEGINNING HARP (Sharon)
You're excited – you just got a harp. You want to make beautiful sounds, but you're wondering how to get started. The good news is you can have fun AND create pleasing music with your harp even as a newbie.
Sharon will take you on a tour of your harp – and talk about what to do with your fingers. You'll learn some of simple patterns, and then discover how to make them musical. A super preparation if you are a true beginner! You'll even get individual attention.
9. ACCOMPANYING THE HARPIST (Dave and Sharon)
Often a harpist has a spouse, friend or relative that plays an instrument but doesn't know how to fit in with a harp player. Dave and I play together using a chordal instrument, the guitar, and a melody instrument, the mandolin or banjo. There are
some things to know for both the harpist and the accompanist that makes it easier to play together. This workshop can help get you started playing together.
10. HARP MAINTENANCE
Includes lever regulation, repairing small dings, the elusive buzz, tuning pin issues, weather and humidity, cleaning your harp and any questions answered.
11. DINGS, BUZZES AND GENERAL TROUBLESHOOTING (Dave)
Dave will talk about repairing small dings, the elusive buzz, tuning pin issues, weather and humidity, and cleaning your harp. Bring questions. This workshop is good for all harpists and companions.
12. LEVER REGULATION (Dave)
A more involved look at what's involved in regulating the levers on your harp. Dave will show you how to get a perfect half step with your levers using both bridge pin placement and lever mechanism placement. This workshop is good for all harpists and companions.
Workshop Feedback:
"I wanted to tell you how much I appreciated your class. I have a new metronome tuner combo & I am using the metronome all the time for scales and pieces I'm learning. It is forcing me to play more smoothly and slowly and to quit cheating! It really lets me know when I can't make a transition... woe!!" Robin Tower, Southeastern Harp Weekend.
"Loved your personalized interest in each student at whatever level they were at. You made me feel welcome." Annonymous
"The workshop was well paced and geared appropriately for the group even considering you had a variety of playing levels in attendance. I enjoyed your style of teaching. You explained things very well. I still use the tuning technique you taught me and I really like that." Janice Mineer (workshop organizer) Montana
"Sharon made the Metronome easy. After struggling with the Metronome for years, I now have a better understanding on how to use it & how it works. Also, how it can make your playing better. That light bulb was shining bright over my head when I left." Annonymous Southeastern Harp Weekend
"Sharon gave out some good tips on inversions, which were very clever. Many different levels of students in this class made it a little difficult for some, but everyone got it in the end." Annonymous Southeastern Harp Weekend.