Fiddlin' Around on the Harp
Fiddle tunes arranged for the Harp by Sharon Thormahlen
This is a book of 19 fiddle tunes arranged for the harp and suitable for beginner and intermediate players. Nine of the tunes have Harp 2 harmony parts. (You can see which ones in the paragraph below the sample tune. They have an asterisk* after their tune name.)
When Dave and I started arranging these tunes, I tried playing some harmonies while he played the melodies on the mandolin. It didn't work on all the tunes, but with a lot of messing around and tweaking of ideas, we got some pretty good results. A solo instument can play the harmony part while you play the melody, or you can play the harmony while the solo instrument plays the melody. They are just meant to be fun tunes to play with your friends.
Some might call the tunes in this collection "fiddle tunes." These are usually defined by a tune of 32 bars, with an AA BB form or something close to that (AA BA, AA BB CC). Many "fiddle tunes" were conceived on other instruments than the fiddle, like bagpipes, horns, piano, and harp. These tunes usually come down through oral and aural traditon and most often are learned by ear. This means that the folk process figures heavily in their evolution.
You may have heard many different versions of the same tune. Sometimes the same tune may have a different name, and sometimes a different tune will have the same name. This can be very confusing. I chose the name I was most familiar with and seemed to be the most commonly used. Feel free to alter the tunes to the melody you are familiar with and call them by the name that you know.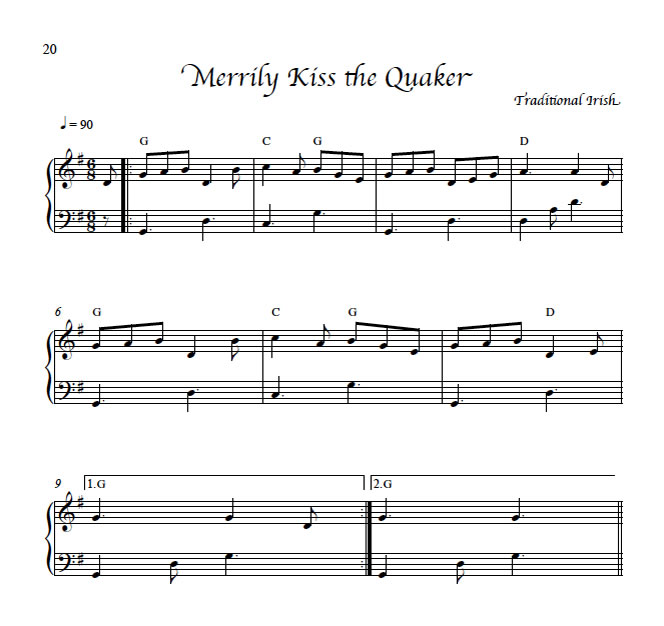 Songs include
Black Nag
The Lea Rig
Hector the Hero*,
Indian Point
Sailor's Hornpipe*
Merrily Kiss the Quaker
Planxty George Brabazon*
Happy Boys*
Star of the County Down
Foggy Dew
Fiddlin' Around on the Harp*
The Rakes of Mallow*
Kesh Jig
Drowsy Maggie
Si Bheag Si Mhor*
Fisher's Hornpipe
Wind that Shakes the Barley*
Coleman's March* and
Carolan's Concerto.
*These tunes have harp 2 harmony parts which can also be played by a solo instrument along with the harp 1 melody part.
The keys in this book are C, Am, G, Em and D and the tunes are in the order of how many sharps the key has.
A digital audio CD can be purchased to accompany this book for $5. This audio is played by my computer harp setting and is EXACTLY what is on the page. It is useful as a learning tool.
The book is $25. EARL NEWMAN, Cover Artist
What people are saying about Fiddlin' Around on the Harp:
"I shared with my students your most recent books. They are perfect for teaching: the way you make wide space for easy reading; the simplicity, but beauty of arrangements; and the high-interest repertoire... I couldn't have asked for a better book. Thank you so much! Now, I need 2 more copies of "Fiddlin' Around" please!" Carol McIntyre
"My daughter, Jamie, brought her violin over and for the first time we played together!! I've suggested playing together for years, but it took this book to spark her interest. Granted, you can imagine...first time...AND I'm rhythmically challenged, but it was so much fun! Our favorite piece??? Fiddling Around on the Harp! It is Lovely! This also made Jamie see that this could be done with other music. We both had a really great time. Thanks so much!" Janet Daugherty
"Your arrangements are really fun and simple enough without sounding simplified." Verlene Schermer
"Nice compilation of tunes." Frank Voltz
I'm playing a few tunes out of "Fiddlin'" for my gig at an assisted living facility at noon today. Besides the book itself, I love that the print is big, which makes it easy to read in darker rooms. I've also been working on the duet of Hector the Hero from the book, which is our harp circle's November Book of the Month selection. It's a really sweet arrangement and fairly easy to play. I'm hoping someone will want to take a stab at it with me - possibly during the social/snack time...Jini O'Flynn
"I bought one of your books when I had just started playing the lever harp because the cover art was so beautiful! How nice it was to discover the contents were too!" Deette Bunn
Glad I have it! Heartily recommend!
Barra, Canada
Wonderful collection, the arrangements fall nicely under the fingers!
Denise, Wisconson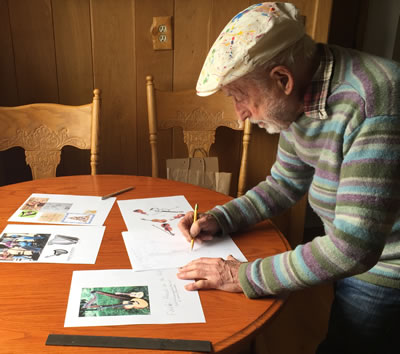 Go back to the Books,
or go to another book page:
A Rose in Winter
The Singing Tree
Gossamer Gate
Sweepin' the Clouds Away
Dance Thru the Music
Where the Fingers Fall
Shalom
'Tis the Season
Waltz Upon a Time
Cabin Fever for Two
The Lone Egret
Moon Over the Mountain
Sunset on Seattle
Season's Greetings
Under the Double Rainbow
Melodías del Arpa
Beautiful Dreams for Twin Harps
Beneath the Pines
Valley of the Dragon
Ordering information:
All of these books are available directly from Thormahlen Harps. If you don't want to order through PayPal, no problem just email me or call me (541 753-4334) and I'll work up the invoice for you. You can pay with Visa, MasterCard, American Express, or Discover or you can send me a check.