The Koa Deluxe Harp
We choose our nicest wood for our deluxe harps. In fact you can choose the wood set for your harp if you'd like. The prices vary depending on what we have available. It costs a minimum of $100 to look and that $100 will be applied to your wood choice.
Here's our newest and most deluxe koa harp ever. We call it the Royal Hawaiian.
Here are some photos of deluxe pillar inlay options. The 2005 Long Vine inlay is on the left, the 2004 Tree of Life inlay is in the middle, and the 2007 white Rosebud inlay is on the right..

Kathleen with her 2004 Koa Deluxe with the Tree of Life pillar inlay.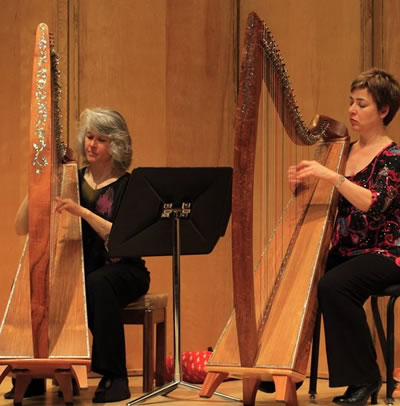 Laura Zaerr and Kim Robertson both playing Koa Swan harps at a concert in April of 2008, in Eugene, Oregon.
Here's our newest and most deluxe Koa Harp ever.
Go back to the Koa page.