Cabin Fever for Two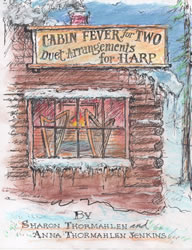 For international sales, please email me.
$25 (We think you should buy 2 of them if you plan on playing with a friend)
Cabin Fever for Two started in North Carolina in 2006 after attending the
Southeastern Harp Weekend together. Ever since then Sharon and Anna have seized the opportunity to get together, along with their harps, for a week at a time to play and work on these tunes together. One of the things that makes this easy is that they are cousins. Technically cousins-in-law with Dave, Sharon's husband the official cousin. Anna and Dave's fathers were brothers.
Here is a list of the tunes in the book:
Musique dans le Cabane
The Water is Wide
Inis Oírr (Inisheer)
The Ash Grove
My Cape Breton Home
Tourner à Trois
Hewlett
Waltzing Matilda
Denise Grupp-Verbon reviewed this book in the Spring 2013 issue of the Folk Harp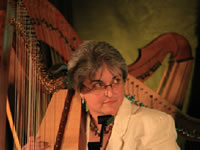 Journal. Here is the review:
Sharon Thormahlen's creations have never been disappointing and this collection is no exception. Featured are eight selections arranged for harp duet. Titles range from traditional tunes like "The Water is Wide" and "The Ash Grove," to Hewlett" by O'Carolan and the familiar "Inisheer" by Thomas Walsh of Dublin.
This collection has a nice variety. I am sure a harp duo could create a lovely program from this book. Each arrangement features a score and parts and the two parts complement each other nicely. The collection is appropriate for late beginners to intermediate pliers. There are a few clearly marked lever changes, some glosses and also rolled chords and some syncopation. There are no fingerings provided, but chord symbols and dynamics are included. Sharon and Anna include a paragraph of program notes for each selection. If you have someone to play duets with (or more!), I know you will enjoy this book! We look forward to Sharon and Anna's next project.
From Mary Dragoset: I wanted to tell you my experience with your book Cabin Fever for Two. A friend and I did two of the duets this morning and the congregation loved them (Ash Grove and Water Is Wide). But here's the most interesting thing about your arrangements: between rehearsals and performances, I managed to find just about every possible way to mess up – wrong notes, missed measures, totally lost – and if we just kept going and got back together, overall, it sounded great. I've never had that experience with duets before and can only attribute it to the fact that these are great arrangements. Thank you!
From Chris Neiburger: My friend and I have been enjoying these duets so much. We love that the parts are equally melodic and interesting. So often duets are have a 'strong part' and a 'simple' part, so that one player is working hard and the other is bored! Not so with your pieces. Both parts are so much fun to play! Is there a practice CD available for this book? It would be so helpful to hear these pieces performed so that we can catch any mistakes and oversights we might be making.....and just to enjoy hearing them! (Yes there is. It is $5 and contains each tune played together and each part played separately).
From Eliza Mitchell (Heart Strings harp Circle): We want to thank you for your harp music. Our harp circle did a concert last night. We think this is one of the best concerts we've done and that it's due to the fact that our program included your music. We played everything from The Cabin, except Matilda. We really enjoy playing your music; it's easy to read, highly accessible and absolutely gorgeous! Thank you for sharing it with us.
Deborah Sandler: We received the books on Thursday; I distributed them on Friday; and we're all in love !!!!! We'll be adding Ash Grove to our repertoire immediately. Some of the others we will tackle in the new year.
Holly Coates-Bash: I just realized that you co-wrote Cabin Fever for Two, one of my most beloved duet books. Thank you so much for writing it!...my duet partner and I have had so much pleasure from playing the pieces. I see you have written many other pieces....do you have any other duets? (Yes, Under the Double Rainbow is a duet book, as is The Lone Egret. Fiddlin' Around on the Harp has at least 10 duet pieces in the book. See links in the list below. There is also a duet in Sweepin' the Clouds Away called The Birds of Blueridge and a duet in Moon Over the Mountain called The Alpenglow.
Go back to the Books,
or go to another book page:
A Rose in Winter
The Singing Tree
Gossamer Gate
Sweepin' the Clouds Away
Dance Thru the Music
Where the Fingers Fall
Shalom
'Tis the Season
Waltz Upon a Time
The Lone Egret
Moon Over the Mountain
Sunset on Seattle
Season's Greetings
Under the Double Rainbow
Fiddlin' Around on the Harp
Melodías del Arpa
Beautiful Dreams for Twin Harps

Ordering information:
All of my books are available through Thormahlen Harps. For direct orders (not using Paypal), please send the listed price per songbook plus $4 shipping for 1 item, add $2 shipping for the next item and $1 for every additional item after that. Send your order to Thormahlen Harps, 1876 SW Brooklane, Corvallis, OR 97333. Or call us at 541-753-4334 for Visa, MasterCard or Discover purchases. Shipping costs are slightly different when ordering through Paypal.
For international sales, please email me.