Cabin Fever for Two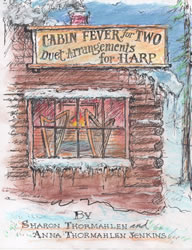 $25 (We think you should buy 2 of them if you plan on playing with a friend)
Cabin Fever for Two started in North Carolina in 2006 after attending the
Southeastern Harp Weekend together. Ever since then Sharon and Anna have seized the opportunity to get together, along with their harps, for a week at a time to play and work on these tunes together. One of the things that makes this easy is that they are cousins. Technically cousins-in-law with Dave, Sharon's husband the official cousin. Anna and Dave's fathers were brothers.
Here is a list of the tunes in the book:
Musique dans le Cabane
The Water is Wide
Inis Oírr (Inisheer)
The Ash Grove
My Cape Breton Home
Tourner à Trois
Hewlett
Waltzing Matilda
Denise Grupp-Verbon reviewed this book in the Spring 2013 issue of the Folk Harp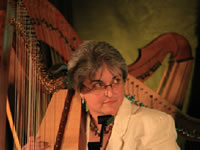 Journal. Here is the review:
Sharon Thormahlen's creations have never been disappointing and this collection is no exception. Featured are eight selections arranged for harp duet. Titles range from traditional tunes like "The Water is Wide" and "The Ash Grove," to Hewlett" by O'Carolan and the familiar "Inisheer" by Thomas Walsh of Dublin.
This collection has a nice variety. I am sure a harp duo could create a lovely program from this book. Each arrangement features a score and parts and the two parts complement each other nicely. The collection is appropriate for late beginners to intermediate pliers. There are a few clearly marked lever changes, some glosses and also rolled chords and some syncopation. There are no fingerings provided, but chord symbols and dynamics are included. Sharon and Anna include a paragraph of program notes for each selection. If you have someone to play duets with (or more!), I know you will enjoy this book! We look forward to Sharon and Anna's next project.

Go back to the Books,
or go to Sharon's other books:
A Rose in Winter
The Singing Tree
Gossamer Gate
Sweepin' the Clouds Away
Dance Thru the Music
Where the Fingers Fall
'Tis the Season
Shalom
Prelude for Peace
The Lone Egret
Moon Over the Mountain