The Lone Egret
Sharon Thormahlen and Jessica Urey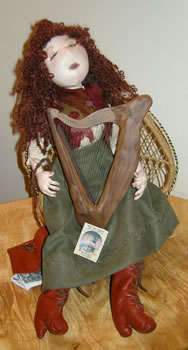 6 original duet compositions for Harp and Flute
In January of 2008, Jessica, a home schooled 14 year old, came to me with the beginnings of her compositions. Together we worked on their structure, melody, chords, etc. and eventually decided to make harp/flute duets out of them. This book is a culmination of our work.The book includes the complete scores along with separate Harp and Flute scores for easy reading.
The book is set up in the order of keys from 3 flats to 2 sharps. The lever changes in 3 of the 6 tunes are relatively easy to accomplish. The harp accompaniment parts can stand on their own as harp solos. The flute melody parts can serve as a lead sheet for the harpist to play with their own improvised accompaniment. Two harpists can play together with one harpist playing the flute melody with an improvised accompaniment while the other harpist plays the written harp part. And of course, the flute part can be played by any melody instrument. We hope you will have fun with these tunes.
A midi Audio CD is available for purchase to accompany this book. It includes the duet version along with each individual part so you can hear them separately.
This doll was a gift I recieved at the Southeastern Harp Conference this year. Everyone said it looked just like me! I love her! I made little music books for her. She's playing from The Lone Egret in this picture.
Tunes include:
Asia Minor
Faye's Dance
Waltzing in the Dark
Les oiseaux d'amour
Memory in the Music Box
The Lone Egret
The book is $20. Now available with an audio CD accompaniment ($5).
I want to thank you again for your arrangements.
The Memphis Harp Ensemble played Asia Minor last evening, in a medley of Asian tunes. We were playing for a party at our art museum and there was a Chinese exhibit. Just before we were about to play your arrangements of Ashokan Farewell and Lovers Waltz we were told we had to move to the basement because of tornado warnings. And both last night and for a program on Tuesday we started off with your Preluce for Peace. I often wonder of arrangers/composers realize how frequently they're creative efforts are used and enjoyed.--Barbara Christensen
What fun to have a book of original songs for flute and harp combining Jessica's flute melodies with Sharon's beautiful harp compositions! Because the harp parts are not simply accompaniments to the flute, but stand alone as harp solos –it's like getting two books in one! --Verlene Schermer
I love the music in "The Lone Egret." The interplay between the harp and flute is lovely to listen to and a joy to play. Sharon's compositions just keep getting better and better! --Anna Jenkins
The book/CD format is a perfect learning tool. Well done. The music is lovely throughout! --Barbara Gladstone (flutist)
I purchased a Cygnet from you almost a year ago and I love it!! But the real inspiration for my note is that I have been playing Asia Minor. I don't have anyone playing the flute part, but no matter, it is just the joy of my heart. I love it It is very complicated and unique and I am amazed I can play it at all. I have been playing the harp for about 19 months. It is the most amazing melody and such interesting intervals and harmonies. I just wanted you to know how dearly I treasure your creativity!! --Stephanie Raphael-Nakos
At Harpcon St. Louis, I read through all the pieces in this book and thought they flowed very nicely in a harpistic way. They lay under the hands very well. What I like about Sharon's music is that it fits the harp so well, unlike some harp music that is too pianistic. Each of her books is better than the last one! --Kathy Chanik
Absolutely beautiful, Sharon. This is some of your very best work. --Beth Kollé
Sharon Thormahlen always publishes delightful and creative material. This collection is a bit different, as it is for harp and flute. This collection features six originals for the duo combination. There is a score, harp part, and flute part for each tune and permission is given to copy a part if you need it for performance (such as the flute part, for example). The selections are in the keys of Eb, C, Dm, Am and Em. Chord symbols are provided in the score and harp parts and lever changes (just a few) are clearly marked. Helpful rehearsal letters (such as "A" and "B") are even included! This collection is the ideal opportunity for a late beginner to work in a small ensemble. You could even play the arrangements with one harp playing the flute part and another the harp part. Get creative!--Denise Grupp-Verbon as written in the Folk Harp Journal Spring 2011
Just wanted to let you know that I'm enjoying playing your title song, "The Lone Egret." I have practiced with the CD, and hope to be playing soon with my daughter, the flutist.-Marjorie Markowitz
What beautiful cover art! I just played through the melodies, and I was imagining the two of you working together to produce this beautiful music. Well done Jessica. I will be playing the Asia Minor, and The Love Birds : ) I also like The Lone Egret. What a lovely edition to my growing music library and repertoire! Peace and love to all. Marguerite Sprague
If you'd like to be added to this list, just email me with your comments at: harps@thorharp.com
Go to Books,
or go to A Rose in Winter
The Singing Tree
Gossamer Gate
Sweepin' the Clouds Away
Dance Thru the Music
Where the Fingers Fall
'Tis the Season
Shalom
Waltz Upon a Time
Prelude for Peace
Moon Over the Mountain