The Singing Tree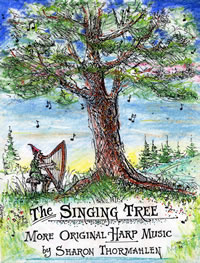 For international sales, please email me.
A pdf is available for this book. Please email me.
This is Sharon's second book of original compositions for the harp, suitable for beginners and intermediate players. If you liked the first one, this one contains melodies that are equally as beautiful. Songs include Dragon King Round, The Mossy Glade, In the Wind, Moon Drifting (1 lever change), Nanalu O Kahola, A Walk in the Woods, Queen Anne's Lace, Pepperoni, The Wolf at the Big Odell (see Loner below), Waltz Around With Rosie, and The Singing Tree.
This is Loner's memorial photo from Shady Cove Resort. He passed away in 2006. He is truly the Wolf at the Big Odell.
Click here to see a U-tube video of In the Wind
The book is $15. Now available with an audio CD accompaniment ($5).
Jim (Chiron the Bard) recorded Waltz Around with Rosie and put it up on YouTube. Here it is:
Waltz Around with Rosie
Here's what people wrote to me about this book:
"I saw your book at the local music store when I was visiting my son in Corvallis. I was so taken with what you wrote about each piece that I bought your book. When I got home, I noticed that you live in Corvallis and that made the book even more special. When I play your pieces in nursing homes and hospice, I will read what you have written because the message about each piece seems very healing."
Barbara Glick

"Your songs are so beautiful, I just get lost in them and the time flies by while I am playing. I have lately noticed people pausing outside my open windows in the garden to listen to the songs. Your music is my treat after I do my finger exercises and other assignments!"
Susan Graham

"It's your original music that I really find myself drawn to. Some of my favorites include The Mossy Glade, Waltz Around with Rosie, and The Singing Tree, but the two songs I have become totally enamored with are In the Wind and Nanolu O Kohola. Both of these melodies are very evocative and beautifully written. I can actually see the whales in my mind when I play Nanolu!."
Jan Dromlewicz

"Just a note to tell you how much I have been enjoying your 3 books. You write lots of catchy songs that I can use for therapeutic sessions and just for fun. Keep writing, please!"
Elizabeth Thornton

"The pieces in your book, have taken me through the transition from playing one-page versions of songs to feeling like a real harper. Because these pieces have been written for the harp and not some other instrument, they bring out the beauty and full range of the harp. I also appreciate the harmonies that go beyond the conventional."
Linda Nelson

"About a month ago, I bought The Singing Tree and immediately began to work on the pieces. I play now every day, every minute I have free. I have reconnected with my love for the harp through working with your compositions. I just wanted to tell you that."
Laurie Lee

"I want to thank you for your gift of exquisite music and song. I absolutely love playing your music. It truly fills me with joyful peace. My partner feels the same. Several of the brides we worked with chose selections from your books. That made me very happy."
Cindy McCormick

"Just wanted to tell you how much I am appreciating your music. Now that I'm nearly done with my internship for MHTP, I know what kind of music I need to add to my repertoire — yours! The melodies are haunting and lovely, the repetition is relaxing, and the level is such that I can play all of the melody lines and some of the bass lines. Your music is ideal for this work! I hope you are working on another book that will include The Last Goodbye."
Alaine Warfield

I did a group at the hospital this morning and since they were eating lunch I played "Pepperoni"...............my personal favorite! I love the offbeat rhythm of that piece! We chuckled over how something that pretty could be named "Pepperoni!!"
Peggy Glenn
A harp song and arrangement that I really like is "Waltz Around With Rosie". That's a very good song and a very nice arrangement. It's well written, it sounds good, it's easy to play, it's fun to play, and I like it. Good work!
Rich Menges
I play both harp and hammered dulcimer and I just want to suggest to other harp and dulcimer players that Sharon Thormalen's piece for lever harp (Moon Drifting) is awesome on the hammered dulcimer. My patient's thought it was the best jazz on the dulcimer they had ever heard.
Julie in Michegan

If you'd like to be added to this list, just email me with your comments at: harps@thorharp.com
Go back to the Books,
or go to another book page:
A Rose in Winter
Gossamer Gate
Sweepin' the Clouds Away
Dance Thru the Music
Where the Fingers Fall
Shalom
'Tis the Season
Waltz Upon a Time
Cabin Fever for Two
The Lone Egret
Moon Over the Mountain
Sunset on Seattle
Season's Greetings
Under the Double Rainbow
Fiddlin' Around on the Harp
Melodías del Arpa
Beautiful Dreams for Twin Harps
Beneath the Pines
Valley of the Dragon
Ordering information:
All of these books are available directly from Thormahlen Harps. If you don't want to order through PayPal, no problem just email me or call me (541 753-4334) and I'll work up the invoice for you. You can pay with Visa, MasterCard, American Express, or Discover.
For international sales, please email me.