Harp Jewels
(Abalone Inlay options for your stained Serenade or Ceili and prices)
Updated April 4, 2023
The inlay options for a Serenade or Ceili with a color stain is limited to some very simple inlays. If you don't see something you like, we can work with you on developing a custom inlay that will hopefully be simple enough for us and beautiful enough for you. Putting a complicated inlay inside an oval or a circle is a great way to simplify an inlay. If you're planning to get a natural blond Serenade or Ceili, any inlay from our full array on the main inlay page is an option. Also if you are ordering a Ceili with a natural wood front t-brace, you can get any inlay from our main inlay page on this front piece.
The Thormahlen T logo in Paua and white Mother of Pearl
2" x 1 3/4" Price $300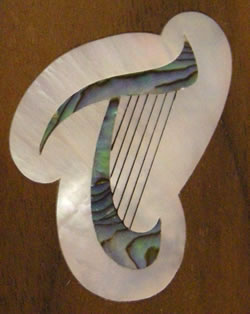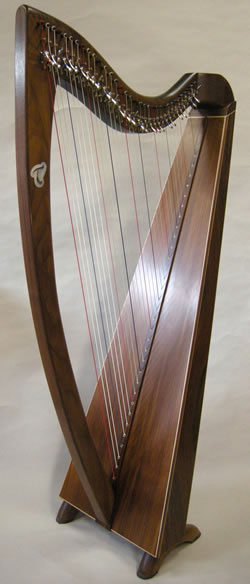 The Oval Blue Heron in Mother of Pearl or the Oval White Heron in Paua Shell:
1 3/4" x 1 1/8 " Price: $350
Each one is unique.
About the Blue Heron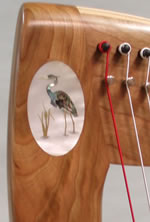 On the left an Oval Heron on a Cherry Cygnet; in the center, a combination of 2 Single Vines and an Oval Heron on a Cherry Swan ($1200) and on the right, another creative variation of the Oval Heron and a lotus inlay on a Walnut Swan ($550).
The Oval Rose is 3" x 1 1/4" and comes in pink, yellow and white as seen below. Price: $250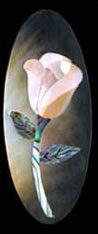 The Oval Rose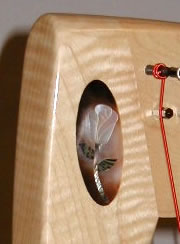 Oval Rose a Maple Cygnet and and Double Roses on a Koa Cygnet.
The Celtic Inlays:
The Celtic Trinity is 1 1/2" wide and 1 1/4" high and comes in white or paua. Price: $200
The Celtic Horse Oval is 4" x 2 1/2" and comes in white/paua/gold and other options as well in oval: $350
The Celtic Trinity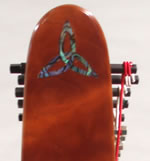 The Celtic Horse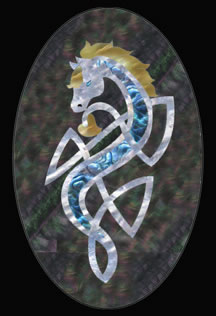 Oh and don't forget the inlay around the Soundboard. The abalone inlay is sandwiched between black/white/black perfeling and mitered at each corner.
Price: $1000
This Black Serenade has pearl inlay around the soundboard with Rosewood and Maple trim.
See more of the BLACK PEARL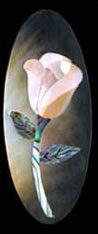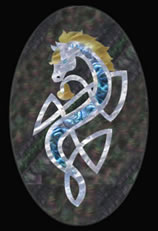 Don't worry too much about the coloring of the pearl pieces that you see in the photos, It is all beautiful.
T Logo $300

The Oval Blue Heron $350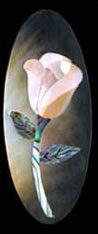 Oval Rose: $250,

The Celtic Trinity: $200
The Celtic Horse Oval: $350
Soundboard Inlay $1200
See the process of inlaying pearl
See some Completed Inlaid harps.
or go to the In Stock page