Season's Greetings and White Christmas
Sharon's newest book of 18 Christmas tunes include many tunes that are not readily available in other harp books. The book, plus the stand alone White Christmas sheet music. will be available this year at the Ohio Gathering through Stoney End, at Somerset Folk Harp Festival at our own booth or at harps@thorharp.com. Earl Newman just finished the cover art work and I just love it! I couldn't include White Christmas in the book because the publishers won't allow it to be part of a collection. The book cost is $30 and White Christas is $5.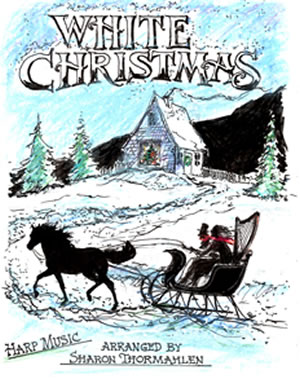 .
For international sales, please email me.
A pdf is available for this book. Please email me.
Everytime the holiday season comes along, I have mixed feelings about learning those darned Christmas tunes yet again. However, as soon as I start the process, I fall in love with them. Christmas tunes are very clever, with such great melodies and chord progressions. They are fun to play but can be difficult to arrange and learn. My goal with this book is to make the arrangements interesting, yet easy to learn in a season. Then, you can forget them when the new year comes around and easily relearn them again at the end of the year.
Some of these tunes you don't find in music books for the harp because most of them were written in the 20th century by some very prominent composers, and they are still under copyright restrictions. Publishing rights can be very expensive, but I really want to make these tunes available to you, so I am going ahead on this project regardless of how much it may cost. Below is Earl working on the book cover.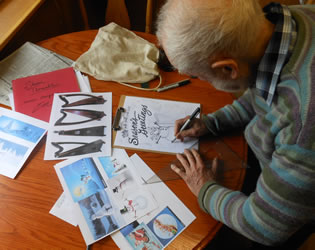 I also include some fun facts about the tunes, which you can share with your audiences.
The Tunes include:
Let It Snow! Let It Snow! Let It Snow!
In the Bleak Midwinter
Angels We Have Heard On High
Christmas In Killarny
The Little Drummer Boy
Rudolph the Red-nosed Reindeer
Silver Bells
Jingle Bell Rock
Here Comes Santa Claus
Joy to the World
Santa Claus is Comin' to Town
A Christmas Song (Chestnuts Roasting)
Ding Dong Merrily On High
Frosty the Snowman
Have Yourself a Merry Little Christmas
Medley: O Christmas Tree/We Wish You a Merry Christmas
Still Still Still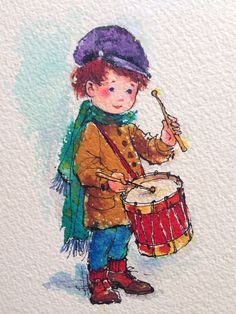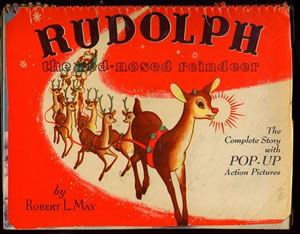 "I just received my order of 2 Christmas music books - Season's Greetings and Tis the Season - and I love them both! Both are easy enough for me to pretty much sight read (some will take a bit more work) -- which I was looking for, as easy go-to choices for many holiday venues. But so many "easy" arrangements are so diluted as to be not very much fun to play or hear; however, your arrangements are so sensitive and lovely - and retain the flavor and harmonies of these old friends in beautiful ways. Thank you for your creative and insightful arrangements! I'm very glad to have them."
Your fan forever,
Lori Lewis, Wilton, Maine
"I've always liked your arrangements, and I use quite a few of them from your other Christmas book, so I'm looking forward to this one. I have other arrangements of most of these pieces, but there's just something about yours that make them interesting and accessible at the same time. I also like playing different arrangements back-to-back, so in my opinion, more is better!"
Linda Minor, Oregon
Great arrangements of many of the more modern Christmas tunes we don't find arranged for lever harp. Most are under copyright, so Sharon put not only her time and talent into producing this book, but also a substantial financial investment. What a great contribution to lever harp repertoire! Kudos, Sharon!
Verlene Schermer
These arrangements are well done. Some are very easy. Some have a few challenging lever changes - that's the nature of pop music. Some have passages of parallel 6ths that could require some practicing. Many have introductions that you will really enjoy playing. Sharon has done a lovely job at making these tunes delightful for player and listener.
Mary Radspinner, Afghan Press/Melody Traditional Music
Just want you to know that I have been working on White Christmas all morning. It's a great arrangement. Finger friendly and even the lever shifts just fit right in with the flow of the music. I have been playing the song with the metronome all morning. "Slowlier" (thank you Alfredo) and just letting it get into my head and hands. But I wanted to say Thanks for your efforts in getting this cool piece out to the harp world.
Becky Szymanski
I received my Christmas music today. So happy you suggested I buy "White Christmas." It is right at my level and a lovely arrangement to boot. Thanks.
Lynn Miller
I have to share with you the discussion hubby and I had this morning. He is the one that encouraged me to get your book even though I have lots of Christmas music. It is beautiful, and I've been working on some of it for 2 years and still can't play publicly, although I do enjoy it myself. I thanked him for encouraging me, and then explained to him that your music is 'sight readable' for me, and it takes all the pressure off of Christmas playing. A couple of days of run through and I will be able to present something decent and delightful with your gift of harmonies and rhythm. I played White Christmas for him this morning, (it's lovely by the way!) and then told him I bought it two days ago!
So thank YOU for sharing!!
Have a wonderful December, and hopefully keep the stress to a minimum!
Lorraine Wichawar
Another note from Lorraine: I also wanted to tell you, and I don't even know if you realize it, but you are printing your music nice and big! My eyesight is starting to fade with cataracts etc., and sometimes I really have to squint to read, but never with yours! ...nice big black notes that I can see. :-)
I am enjoying playing your arrangements of many Christmas songs! Thank you! They're so playable! Theresa Conley
Go back to the Books,
or go to another book page:
A Rose in Winter
The Singing Tree
Gossamer Gate
Sweepin' the Clouds Away
Dance Thru the Music
Where the Fingers Fall
Shalom
'Tis the Season
Waltz Upon a Time
Cabin Fever for Two
The Lone Egret
Moon Over the Mountain
Sunset on Seattle
Under the Double Rainbow
Fiddlin' Around on the Harp
Melodiás del Arpa
Beautiful Dreams for Twin Harps
Beneath the Pines
Valley of the Dragon
Ordering information:
All of these books are available directly from Thormahlen Harps. If you don't want to order through PayPal, no problem just email me or call me (541 753-4334) and I'll work up the invoice for you. You can pay with Visa, MasterCard, American Express, or Discover or you can send me a check.